To SEEDH, Edward Marshall brings 26 years of experience in farming and media. He is a master farm and land consultant, bringing to any farm project an analysis of potential land-based production, systems conceptualization for efficiency, and soil development and improvement. He also is available for farm and project consultation, analysis, and land design.

In addition to a degree in Fine Arts as a sculptor, Edward Marshall is a master permaculture practitioner and grazier. One of a few commercial organic farmers in the Iredell Co./Forsyth Co, North Carolina region in the 1990s to the early 2000s, during that time he developed exemplary knowledge of flora, fauna, soil, and gardening in the Southeast United States. After a hiatus to learn cattle production and grazing, Marshall is re-entering sustainable pork and poultry production.

After working in Hollywood as a film and video editor in the mid-2000s, Marshall returned to the Appalachian-Piedmont region in 2011 to get back to farming and to teach sustainable systems. From 2012 - 2015 he and his spouse Crystal Cook Marshall conducted introductory courses in regenerative sustainable agriculture. .

Marshall is passionate about smart production design and systems for food resilience, health, land and animal stewardship, and legacy.
​
Powered by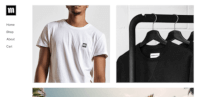 Create your own unique website with customizable templates.